Chitimacha Baskets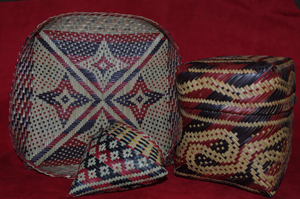 The Chitimacha Tribe of Louisiana is known worldwide for their wonderful, expertly crafted baskets. This art has been passed down through tribal families for thousands of years. These baskets are made from local river cane, which is a variety of bamboo. Chitimacha basket colors are red, black, yellow and the natural color of the cane. Traditionally, dyes were made from local plants, but today commercial dyes are used. Chitimacha baskets are made in a variety of shapes and styles. They are either single or double woven. Single woven baskets include bowls, trays, sifters, heart-shaped, and elbow baskets (for picking berries). Double woven baskets, the baskets with lids, were primarily used for storing things. Some of these were capable of holding water. Basket designs originated from things in the environment, such as plants and animals. There are about 50 designs made today by four weavers. 
The Chitimacha Tribe is interested in obtaining Chitimacha baskets through donations, loans, and purchases (when funds are available).  If you have a Chitimacha basket and are interested in any of these possibilities, please send pictures of your basket(s) to basketinfo@chitimacha.gov.
Unfortunately, the Tribe does not have baskets to offer for sale. Purchases must be made through the individual tribal member basket weavers. Look for some of them at Louisiana festivals such as Jazz Fest.